80 Day Obsession Prep Group is OPEN!
FEBRUARY 80 Day Obsession Group is filling up!
80 Day Obsession is Beachbody's newest 12 week program. It is designed to reboot your metobolism, and LIFT your booty. We are officially one month underway since the launch and the results are INSANE.
Timed nutrition is revving up everyone's metabolisms, our booties are lifting and we are getting so much stronger. 
My First Group is already finishing on week 4- and I am starting the next group with the 30 min PREP Workouts asap!
Those up for the challenge WILL see amazing results as I got to see first hand from my good friends in the initial test group.
I myself am on Day 24, down 7 lbs and I FEEL amazing!
For more details on my first group please CONTACT ME today!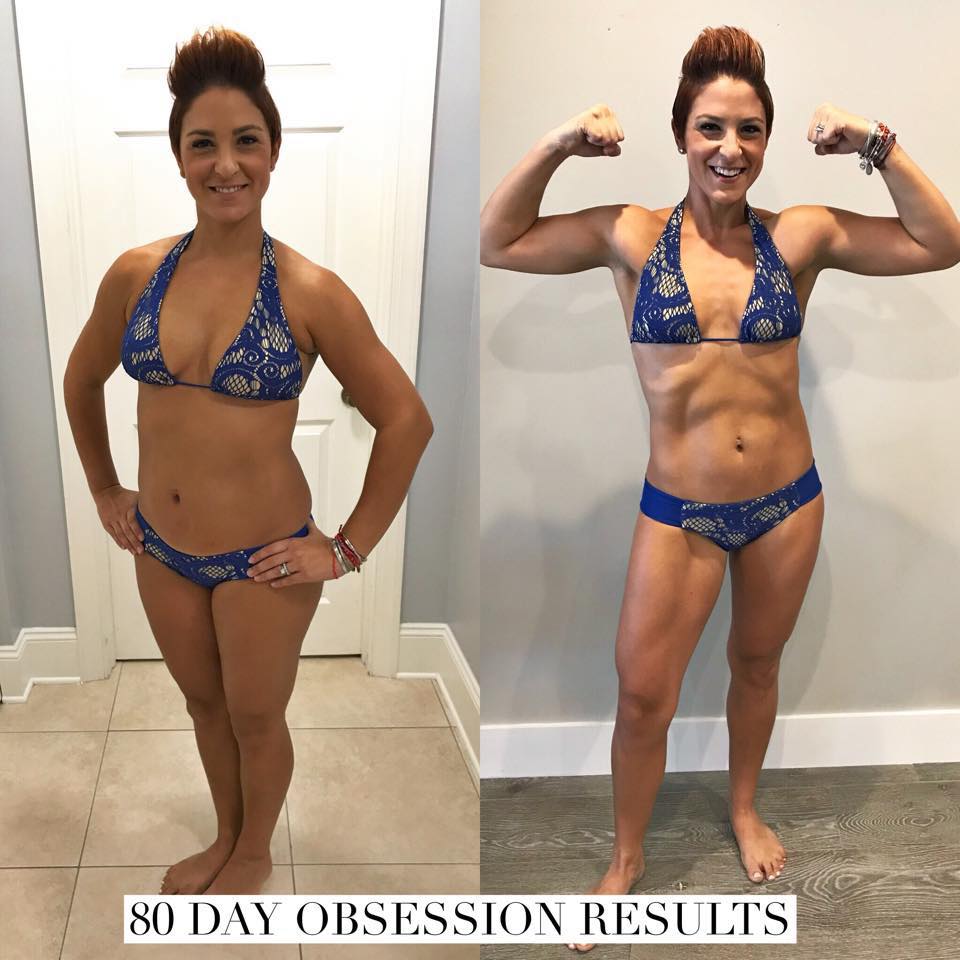 What is the 80 Day Obsession?
80 Day Obsession is exactly that. It's 80 days of obsessive focus on fitness and nutrition spread over 13 weeks. It is an effective, step-by-step approach to building a shaped, curvy butt while simultaneously shrinking your core.
Is it extreme?  YES!!!  The workouts are intense and they average 45 minutes to an hour in length. You will be following a professionally calibrated macro-nutrition plan perfectly timed throughout the day to produce amazing results at each phase of the program.  It is very important that you follow the program to the T in order to get the results that you are expecting. It takes ALL of the guesswork out of WHAT to EAT, and WHEN to EAT it.
This program works your entire body but there are days specifically designed to work your butt, your legs, your core, arms and cardio.  Every Single Workout throughout the 80 days is different and we are doing the workouts in real time with Autumn Calabrese.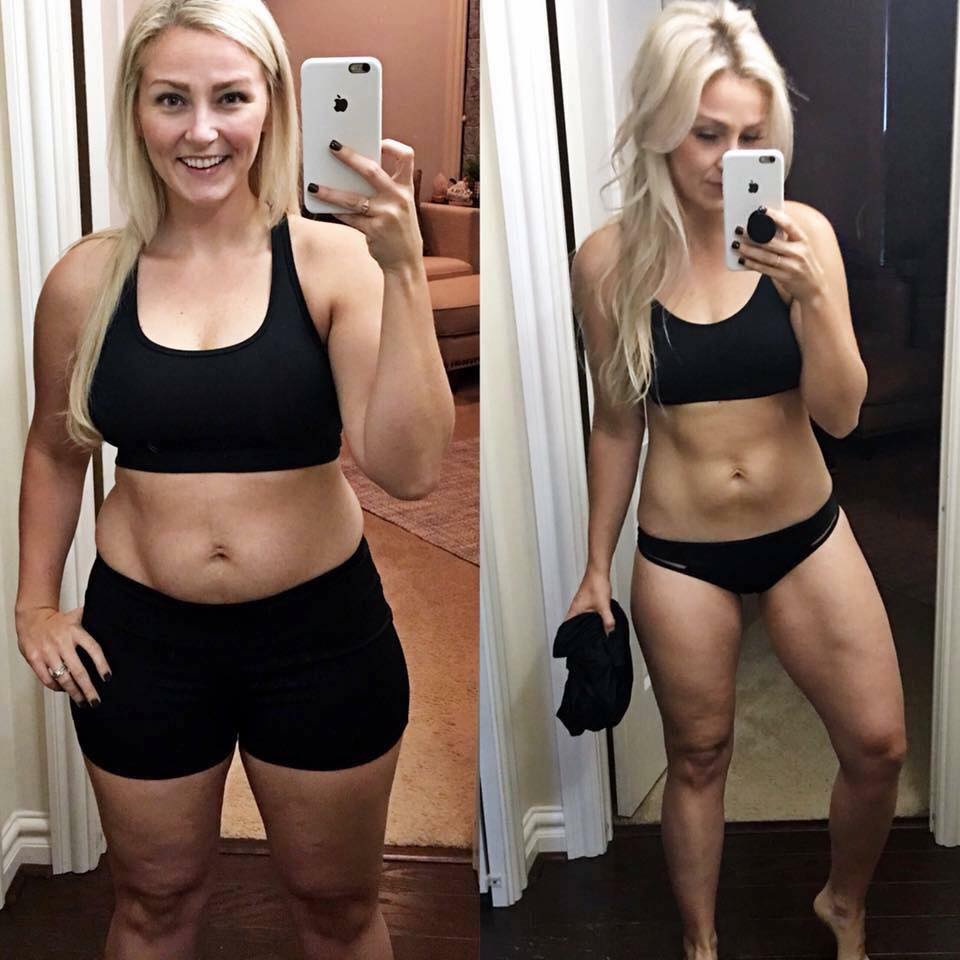 What Is The Nutrition Plan Like?
I can tell you that the nutrition plan follows the portion fix containers for measurements but it is totally different than the 21 day fix or other Beachbody programs.  You eat at specific times of the day and you have a pre and post workout meal.  You can keep it basic and follow the meal plan or you can get fancy with your recipes.  I prefer to keep it as simple as possible.  I replace 1 meal or snack a day with Shakeology and I use the Beachbody Performance Line every single day.  I use the Energize pre workout, Recover post workout to help with muscle soreness. It truly is my saving grace.  I will say that it is worth every single penny of investment. The best part about the whole program is that you get to have a refeed day in which you get to have more carbs to refuel and jolt your body back into results.  The first refeed happens at week 6!
Who is the 80 Day Obsession for?
This program is for anyone who wants to literally get strict with their nutrition and see how far they can go with results!! You do need to have a base level of fitness and you do have to understand portion fix and clean eating.
This program is good for:
-Those that want a leaner, firmer, more sculpted body
-Women looking to add some curves WITHOUT bulking up
-Anyone who wants a tighter, more defined booty and flatter abs
-Fitness fans looking for an intense, holistic workout that they can do at home
The really good news is that You have lots of time to get ready for 80 Day Obsession which is why I am hosting a Prep Group on Facebook to help you get your nutrition in check and your fitness up to speed.
---

What can you do to prepare for this program?
Join my 80 Day Obsession Prep Group and start building a solid foundation for fitness and nutrition.  I am hosting this Facebook Group to walk you through goal setting, meal planning, daily preparation, motivation, consistency and accountability.
Want more details on this abs, butt and total body workout hit me up!!
Here's what the 80 Day Obsession is all about!
Autumn really breaks it down with this program. It focuses on your abs and booty, and let me tell you, IT WORKS! Even if you have weight to lose you are going to shed lbs, build lean muscle and you are going to tone your entire body.
There are 3 phases of workouts over the course of 13 weeks. In total there are 97 days of workouts because you get Sundays off as a rest day.
The workouts range from 45-60 minutes, and as always, there is a modifier.
Autumn introduces timed nutrition, which is a macro-nutrient plan that is timed to produce amazing results.
My 80 Day Obsession Challenge Group will be starting workouts on January 15th. I'm going to help you out with the timed nutrition, designing meal plans, sticking with your workouts, troubleshooting, and focusing on YOURSELF!
The program does not officially become available in the Beachbody On Demand Library until January 15th, but you will be able to purchase your package starting on December 14th. You will have access on January 8th to the nutrition plan (timed nutrition).  If you have been with Beachbody for awhile, you know that you can get some programs on DVD. The 80 Day Obsession will NOT launch on DVD and will only be available to stream with Beachbody on Demand.
In this group each participant MUST commit to:
-Showing up daily and participating in the group.
-Following the timed nutrition plan for your body type and goals.
-Replacing 1 meal a day with Shakeology for the duration of the group.
– I must be your assigned coach.
This is a BETA TEST GROUP which means you will be the FIRST to go through the program!  You have the opportunity to win $500 for completing the program and submitting your results plus you have the opportunity to become a Beachbody Challenge Winner and earn additional money for your transformation.  I am looking for people that are seriously committed to rocking this program and your results.  We will START on the 8th of January with our prep week and then on the 15th of January with day 1.
In the meantime… the group has been created and we are preparing for the launch!!!!!
ARE YOU IN?!!!!!!
---
What Are The Package Options?
If you are a new customer…
Mega Challenge Pack (BEST VALUE) 
The only way to get the best results is to feed your body with the best fuel you can give it. This challenge pack includes everything you need for the entire duration of the program – plus you save $275.  I will be honest…. if you are wondering why you need the performance line- I will tell you this!  You will be SORE, you will want to refuel with the Beachbody performance line because they are QUALITY supplements, they work amazing and they will give you FUEL before your workout and they will replenish afterwards to maximize your results!  Definitely worth every single penny!  I have been drinking energize for the past 4 years every morning 15 minutes before I press play and it really does give me a nice little boost to be able to crush my workout without the jitters!  After your workout, within an hour of finishing I will drink recover which helps to EASE sore muscles, replenish what I broke down during the intense workout and get ready for the next workout!!!
Shakeology on Home Direct
2 tubs of Energize
4 tubs of Recover
2 resistance bands
Sliders and booties
Portion Fix system
Shaker cup
Intro guide & calendar
1 year subscription to Beachbody on Demand which includes 80 Day Obsession program & all other Beachbody Fitness Programs & nutrition guides.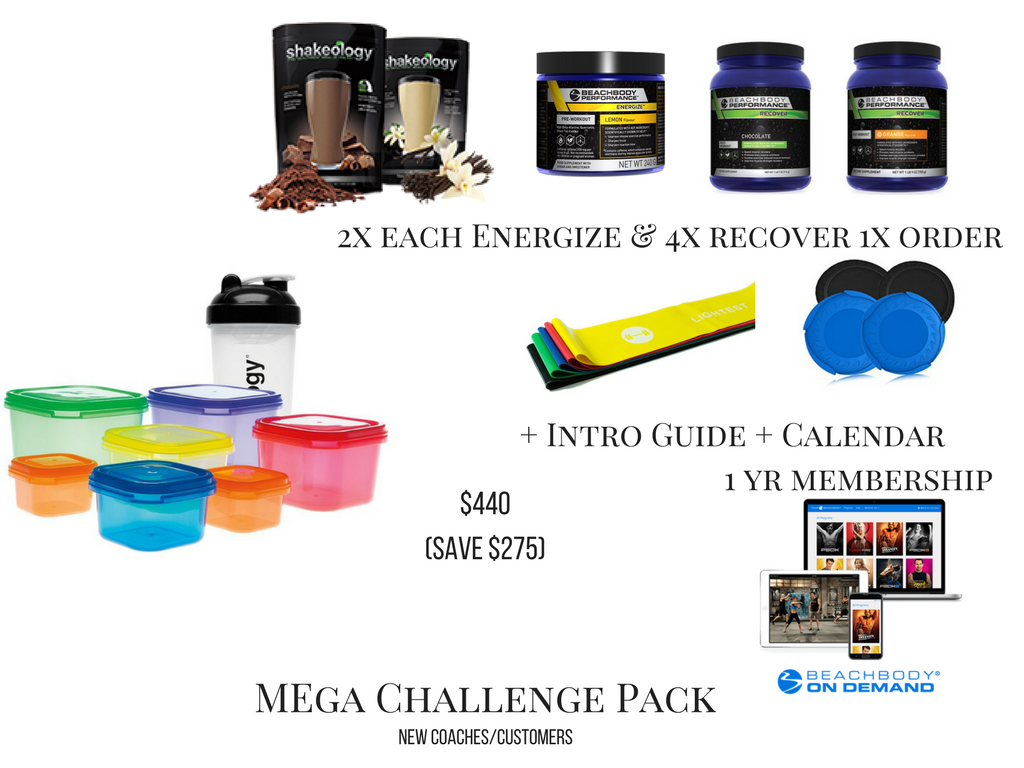 Combo Challenge Pack
Are you ready to get this party started? This challenge pack includes everything you need to start out the program. And you get to save $200!  The difference is if you just want to try out energize and recover for the first time you get 1x orders vs. enough supplements for the entire program.
Shakeology on Home Direct
1 tub of Energize
1 tub of Recover
2 resistance bands
Sliders and booties
Portion Fix system
Shaker cup
Intro guide & calendar
1 year subscription to Beachbody on Demand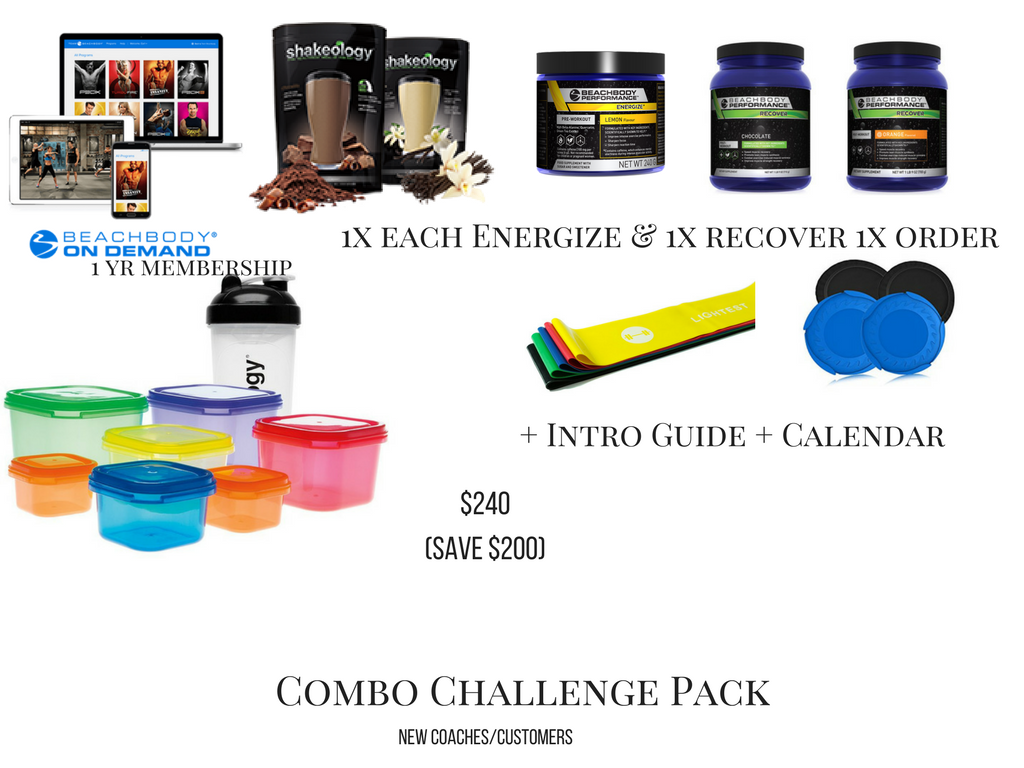 If you are a current customer…
Mega Completion Pack
This is the mother of all packages! It seriously offers the best value. You get everything you need for the program (assuming you already have BOD) AND you save $205.  If you are about to expire your Beachbody ON Demand or you don't have it—>  Check the packages above!!!
Shakeology on Home Direct
2 tubs of Energize
4 tubs of Recover
2 resistance bands
Sliders and booties
Portion Fix system
Shaker cup
Intro guide & calendar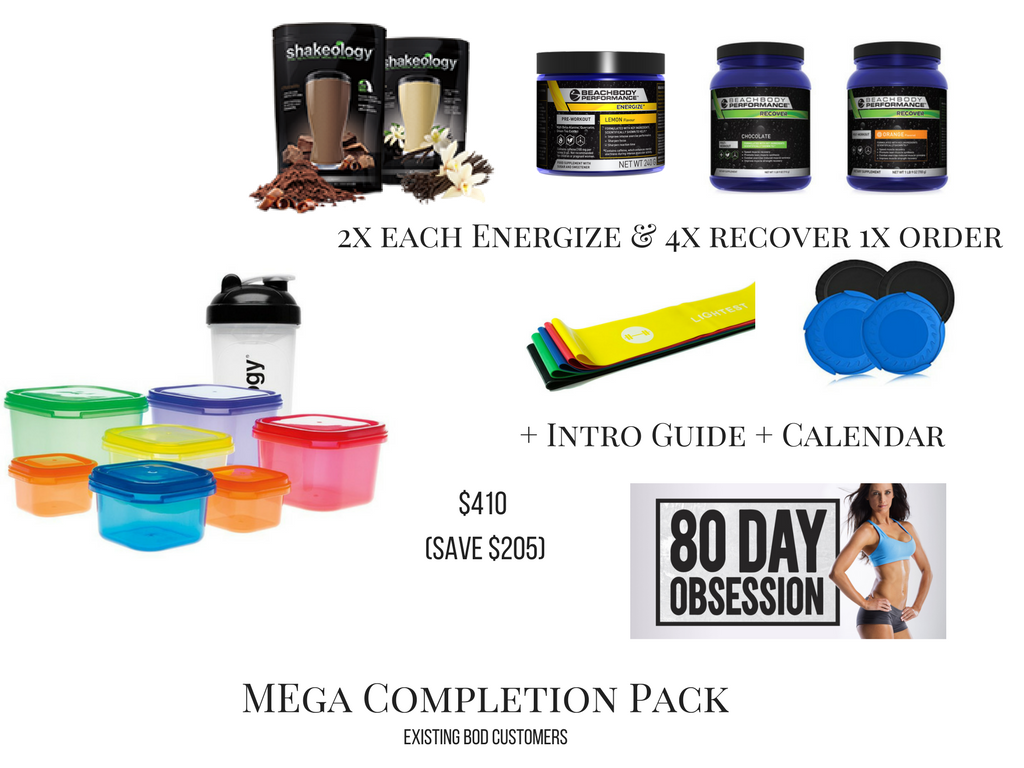 Combo Completion Pack
Are you ready to get re-engaged? Then this package is for you. Save $130 and get ready for 80 days of obsession!!
Shakeology on Home Direct
1 tub of Energize
1 tub of Recover
2 resistance bands
Sliders and booties
Portion Fix system
Shaker cup
Intro guide & calendar