4 Simple and Healthy Thanksgiving Dishes
Today, I have the privilege to collaborate with my Amazing, long time friend (close to 20 years!!) Carrie Fiedor.  Carrie is a registered health and nutrition coach, and works with Clients virtually all over the US as well as her home front of San Francisco on food issues, emotional eating, and learning how to integrate more REAL FOOD into our diets. She is a huge fan of beachbody workouts, and I am a huge fan of her recipes and food mindset, so this was the perfect thing to merge on- our mutual desire to help people still enjoy the Holidays while tweaking their normal dishes to be healthier.  In order to follow all of Carries posts and recipes, you can find her at EAT AND BE WELL- carriefiedor.com.
---
"I have been asked over and over what to bring to Friends-giving that is simple to make, healthy, and easy to travel with. So therefore, Thanksgiving started early in our home. My husband is already tired of Thanksgiving dishes, but I have enjoyed every second of making them, trying them, and of course all the leftovers.
I have found these 4 recipes, tweaked them, and even made some of them for the second time because they were that good and that easy to make. I won't tell you my favorite ones because I want you tell me which ones you enjoyed. Don't forget to comment and let me know!
The first recipe we made was the Thanksgiving Slaw. It was a huge hit in my house. My niece is staying with us for a little bit and we  both were  surprised at how you can add extra veggies to this and have it taste just as good, if not better. Plus, you can empty your veggie bin while making it.
We added red cabbage, broccoli,and fennel. The cranberries with the apple cider vinegar and the maple syrup was outstanding. I substituted sprouted pumpkin seeds for almond slices, as I didn't have them in the pantry. What is great about this recipe (besides the wonderful flavor) is that it is easy to transport, different and tastier than a typical salad, and does not need to be heated!
The second Friendsgiving recipe was the Roasted Butternut Squash Puree with Goat Cheese.  I think this was the easiest recipe by far and was made in record time. The goat cheese we used was Valencay from France. It was delicious and goes a long way. So, if you do not want a strong goat cheese taste, just use a small amount. This recipe can easily be made a day before and will be easy to heat up and transport. Don't forget to sprinkle the fresh sage on top!
The third recipe we made was the Potato, Squash, and Goat Cheese Gratin. This recipe gives the typical Thanksgiving potato dish a new twist. We added zucchini to the recipe because why not? We substituted regular milk for almond and used less goat cheese (Valencay) than what was called for. If you like it cheesy, I recommend using the full amount of cheese, if not a bit more. This can be made as healthy as you would like it or can be made as a cheesy treat. Once again, this recipe can be made a day before and will travel very easily. However, it will need to be heated to ensure the cheese is nice and cheesy!
Lastly, the fourth Friendsgiving recipe we made was the Crispy Gluten Free Bread Dressing with Cranberries and Leeks. Once again,the cranberries were a huge a hit. I soaked the cranberries in the apple cider vinegar a little bit longer than the recipe called for and heated them a tad bit longer as well. I wanted to make sure they were fully soaked and nice and plump! The bread was AMAZING, easy to make the day before, and very crispy on the outside, but soft and tender on the inside. If you want some bread for leftovers make 2 loaves.
The Dressing is always a favorite in my house, but this recipe can put a new healthy and flavorful spin on the traditional dressing. Don't forget to remove the bacon grease before cooking the veggies. I highly recommend this.  The flavor of the dressing is still very good and plus wouldn't you rather save those calories for dessert anyways?
Thanksgiving is one of my favorite Holidays. It is always so nice to be with family, old friends, and of course so wonderful to make new friends too. I hope everyone has a safe and wonderful Thanksgiving. Don't forget to comment on your favorite dish."   Carrie Fiedor.
For more from my amazing friend Carrie, follow her blog at Eat and Be Well, Carriefiedor.com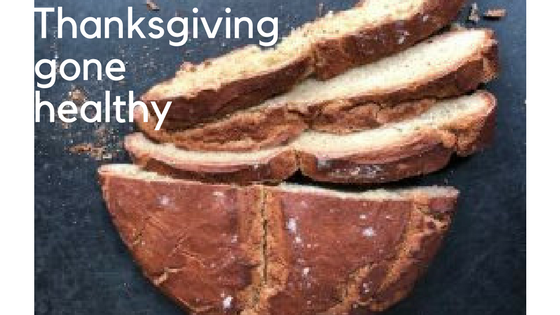 Merry Fitmas and a Happy New Rear!
I have teamed up with my partner coach to bring you this 30 Day Holiday Survival Fitness Challenge! 
🍷
🥂
🎁
What to Expect:
* We will all start with a 3 day cleanse after thanksgiving called the 3 day refresh. 

🍷
* We will drink Shakeology for rest of the month throughout the holiday craziness to get at least ONE nutritious meal! 
😉

🛍
* For those who choose to, we will be following BOD workouts or your workout of choice.

🥂
* We will be sharing healthy cocktail recipes, healthy holiday recipe swaps, meal planning ideas, and make an book for you all at the end with ALL of these recipes to have!

🎁
* We will be having fun weekly prizes based on our fitness challenges.

🎉
* We will be holding a LIVE virtual group workout every sat at 8 am eastern for those who choose to hop on.

💪🏻

YOU MUST ORDER by November 22nd at the latest!!!
Purchase Options for entrance:
1- If you already have shakes, just purchase a 3 day refresh kit.
2- 3 Day Refresh + One month of Shakeology – $160
3- 3 Day Refresh + One month of Shakeology + ONE year of All access streaming
(access to ALL Beachbody fitness programs plus 80 day obsession as soon as it launches Jan 15th) – $205.
We HOPE to see you in our FUN group!! Click on the picture above to chat and get you signed up!
Free 7-Day Clean Eating Plan and E- Recipe Book
I host a Free Meal Prep group with new recipes and tips every month on facebook! If you are not on facebook, you can download the Beachbody Challenge Tracker App and we can work together on there. I share my clean eating guide, recipes, cooking tutorials, and workout tips. You will bond with other challengers and see how these private online accountability groups run!
Download your Clean Eating plan
Download your Free E-Book