Gluten Free Chicken Parmesan
As a family, we have really tried to convert most of our food to gluten free options.  My husband and I feel so much better eating this way- and I don't want to cook two dinners! 😉  The kids don't know the difference, and there are so many great recipes out there now that you won't even miss that stinkin gluten!
Ingredients:
2 Tbsp Pine Nuts                         1 Tbsp Cormeal
1/2 tsp onion powder                   1/2 tsp paprika
1/2 tsp garlic powder                   1/2 tsp black pepper
1/2 tsp oregano leaves                1/2 tsp thyme leaves
1/4 tsp sea salt                            1/2 tsp baking powder
2 tbsp grated parmigiano cheese
1/2 cup almond flour
1/2 cup buttermilk
1 large egg  (you can also use just the egg white)
5- 4 oz chicken breasts
olive oil
Instructions:
1: Preheat oven to 425 F
2: Place pine nuts and corn meal in food processor and pulse until finely ground.  IF you do not have a food processor you can also put the pine nuts in a ziploc and hammer then down. Thats what I do in a huge ziploc then just add all the other ingredients in and shake til blended. 
3: Combine Pine nuts, cornmeal, all spices, flour and cheese in a bowl.
4:Combine buttermilk and egg in a bowl and blend.
5: Dip each chicken breast into the buttermilk mixture, dredge in pine nut mixture.
6: Heat oil in large, ovenproof skillet over medium heat until fragrant.
7: Add chicken breasts, cook for 3-4 min. Turn Chicken.
8: Transfer to a glass dish- scooping any crust from pan and adding on top of chicken in dish. Place dish in the oven; bake for 10-12 min, or until thermometer inserted into the thickest part of each breast reads 165.
Turn Oven OFF- then Add a few spoonfuls of your favorite spaghetti sauce to the top of the chicken, and some mozzarella cheese then add back to the oven for just a few minutes to melt the cheese.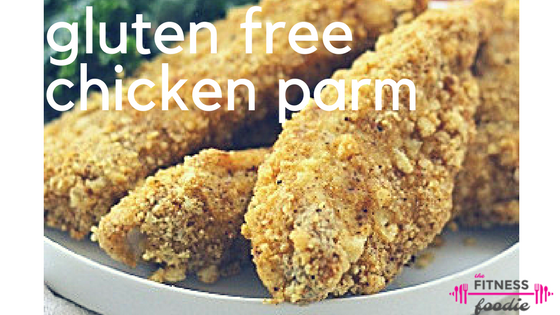 Free 7-Day Clean Eating Plan and E- Recipe Book
I host a Free Meal Prep group with new recipes and tips every month on facebook! If you are not on facebook, you can download the Beachbody Challenge Tracker App and we can work together on there. I share my clean eating guide, recipes, cooking tutorials, and workout tips. You will bond with other challengers and see how these private online accountability groups run!
Download your Clean Eating plan
Download your Free E-Book