Brussel Sprouts with a Touch of Sweetness…that your kids will LOVE!
I always said I would have kids who loved veggies.  Then I had kids.  My son was so adamant against anything green, that he once went to bed 2 hours early as opposed to eating ONE bite of broccoli. At age 3 1/2 though, I decided I was going to change this. I did the "unthinkable" and actually offered 1 m&m at the end of the meal for every new food he tried. I am sure there are moms out there reading this who would say "I would never do that!", but guess what!?!  It worked!  And after about 2 weeks he stopped even asking for the m&m and was just excited for what new food he was going to try that night.  Grayson tried ahi tuna, salmon, hamburgers, grilled chicken, green beans, brussel sprouts, broccoli (finally!) carrots… you name it- every food he had avoided previously we tried. Before this his diet consisted of mac and cheese and pizza.
I feel like I had the biggest Mom Win!  I could finally stop cooking 2 meals!
Out of these trials, Grayson realized he LOVED brussel sprouts, and still 4 years later gets excited when I make this recipe. He now eats them with or without the maple/ balsamic glaze, but my husband and I love it so much I still have it on the side.
My daughter is now 3, and we are about to have to take the same steps with her because believe it or not she is even pickier than Grayson!
So… Here is the super easy recipe for our Favorite Brussel sprouts with a touch of sweetness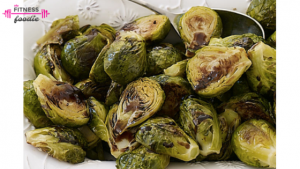 Ingredients
2 spray(s) cooking spray
2 pound(s) uncooked Brussels sprouts, trimmed
2 – 3 Tbsp olive oil, extra-virgin
2  tsp himalayan salt, divided
1/4 tsp black pepper, freshly ground
2 Tbsp + 1 teaspoon balsamic vinegar
2 Tbsp maple syrup
Instructions
Preheat oven to 450°F. Coat a large nonstick baking sheet with cooking spray. Slice ends off of Brussels sprouts, then in half; soak in a bowl place with hot water for 5 min. Drain water and drizzle 2-3 tablespoons olive oil over brussel sprouts. Mix well to coat, then sprinkle with Himalayan Salt and pepper- mix again.
Line a baking sheet with tin foil, and spread brussel sprouts onto prepared baking sheet.
Roast, stirring and rotating pan halfway through cooking, about 20 minutes.
Meanwhile, combine balsamic vinegar and maple syrup in a small bowl and whisk.
Spoon Brussels sprouts into a serving dish; drizzle with syrup mixture just before serving and stir to coat.