I got the Call to be in the Corporate Test Group for Shift Shop!
Here are my 3 week shift shop results!  My Body LOVES this food plan! Gluten Free and Grain Free definitely agree with my stomach as you can tell from the lack of bloating by week 3!
Scroll down to Read all about this athlete inspired program that has completely changed my body 12 weeks in…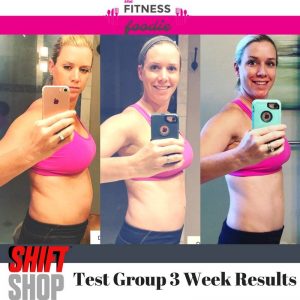 Shift Shop is here! 
Chris Downing's Shift Shop Workout is a three-week rapid rebuild that uses proven strength and conditioning techniques, active agility training, and core-focused abdominal routines to help "shift your body into the next level of fitness." There is also the option to go onto round 2 and 3, making it 9 weeks- which I did in the official corporate test group.
Shift Shop will gradually ramp up your fitness and refine your nutrition to help you get into amazing shape FAST. Each week's workouts ramp up by 10 minutes and you'll eliminate starchy carbs slowly throughout. The food plan is Gluten and grain free, very light on dairy options as well.  It is designed to teach you how to eat more nutrient dense foods, and which options in each category- protein, carbs, fruits, veggies, healthy fats, etc… are the best options to pick from.
What does Each Week of the Shift Shop Workouts look like?
Shift Shop is centered around 'ramping-up,' as you go with gradual increases in cardio and strength-training intensity each week (six workouts per week). There is a modifier in every single workout though, so do NOT be scared off!
Based on this idea, here's a brief overview of what you can expect throughout the program:
• Week 1 – Shorter 25-minute workouts that promise to help you stay focused and committed, without burning out. From a nutrition perspective, you'll eat a balanced amount of carbs, protein, and fat.
• Week 2 – This week, Chris will start ramping up intensity and activity level so that you're working out for 35 minutes each session and accelerating your results. You'll also start cutting back on starchy carbs and increasing your protein and vegetable intake.
• Week 3 – During the third week, you'll experience higher-intensity, 45-minute workouts and clean eating (more whole, natural foods and less processed ones), leading to a body "that's significantly faster, stronger, and leaner." From there, the website claims you'll be able to "build on these accomplishments for the rest of your life."
• Week 4 – You go back to the 35-minute workouts and add certain gluten and grain free carbs back in.
• Week 5 – You ramp up the intensity back to the 45's. Nutrition is the same as in week 4.
• Week 6 – You finally get to my FAVORITE workout- strength 50, (as well as speed 50)!!  This could be my absolute favorite workout of all beachbody programs.

Like I said before- Throughout the program, there is a modifier for each exercise, which can allow you to always get through the moves and still achieve a solid workout.
Throughout the speed workouts, you will use Chris's signature agility markers, which serve as directional targets during your cardio workouts and are intended to improve reflexes and build coordination, speed, and endurance.  They were a great help for spacial awareness and motivation.  In the test group we all decided to write down 4 phrases on our markers that we could see every single time we slapped those markers and pushed harder than we thought we could!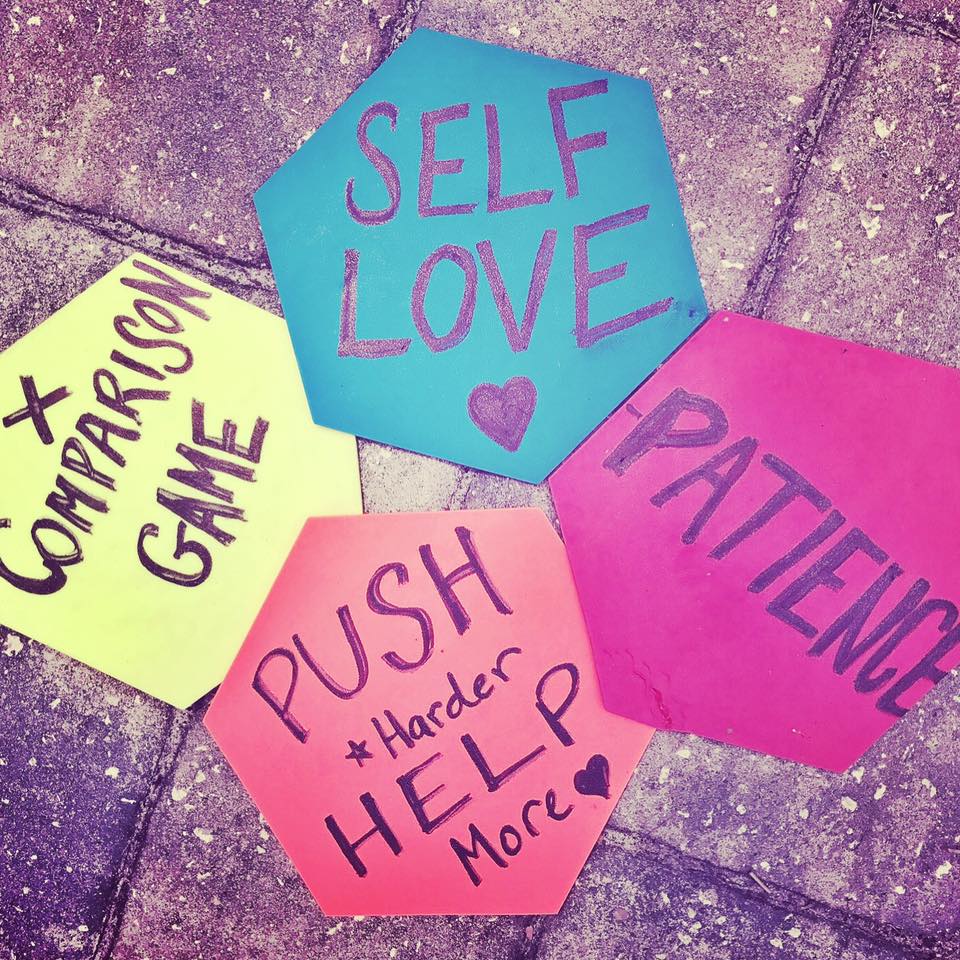 How Much Does the Shift Shop Program Cost?
The Shift Shop program is priced at $59.85 for the dvds alone, but ALL of my challengers are on all access 1 year streaming membership so they received it automatically when it came out. There are a total of eight workouts, a Jump Start Guide, Agility Markers, a 3-week calendar, and the Simple Shift Nutrition Guide.
Shift Shop High-Intensity Interval training Workout
What Is High-Intensity Interval Training?
Performing exercises for short periods of time, followed by even shorter rest periods, then repeating. This is high-intensity interval training, or HIIT.
Benefits of HIIT workouts include TONS of exercise in a short amount of time, getting a cardio workout plus muscular workout at the same time, and the fact that these exercises can be performed in hundreds of different ways.
Carbs, Veggies, & Proteins, Oh My!
Carbohydrates are an essential macronutrient and an important source of energy for your body. However, if too many of our calories are derived from carbohydrates, this excess is stored in the form of fat, which can lead to poor health if continued long enough. I have had HUGE success with my clients when they decide to go gluten free, so when I saw this food plan I was overjoyed!  The fact that it is gluten and grain free makes it the FIRST beachbody food plan to do this.  There is ZERO guesswork with sample food plan, and grocery lists laid out for you in the nutrition guide, or you can simply fill in your food amounts allotted with your own favorite dishes.
Shift Shop Results
How much weight can you expect to lose with the Shift Shop program?
Within the test group, results varied greatly- but one thing every single person had in common was the complete transformation as far as body composition and inches lost.  I personally only lost 4 lbs- but 12 inches total and my body as you can see below looks completely different.  My booty and legs have never been this toned. My back fat and love handles have disappeared and my abs and obliques feel so strong.
Click on this picture for more info on my next at home Challenge Group!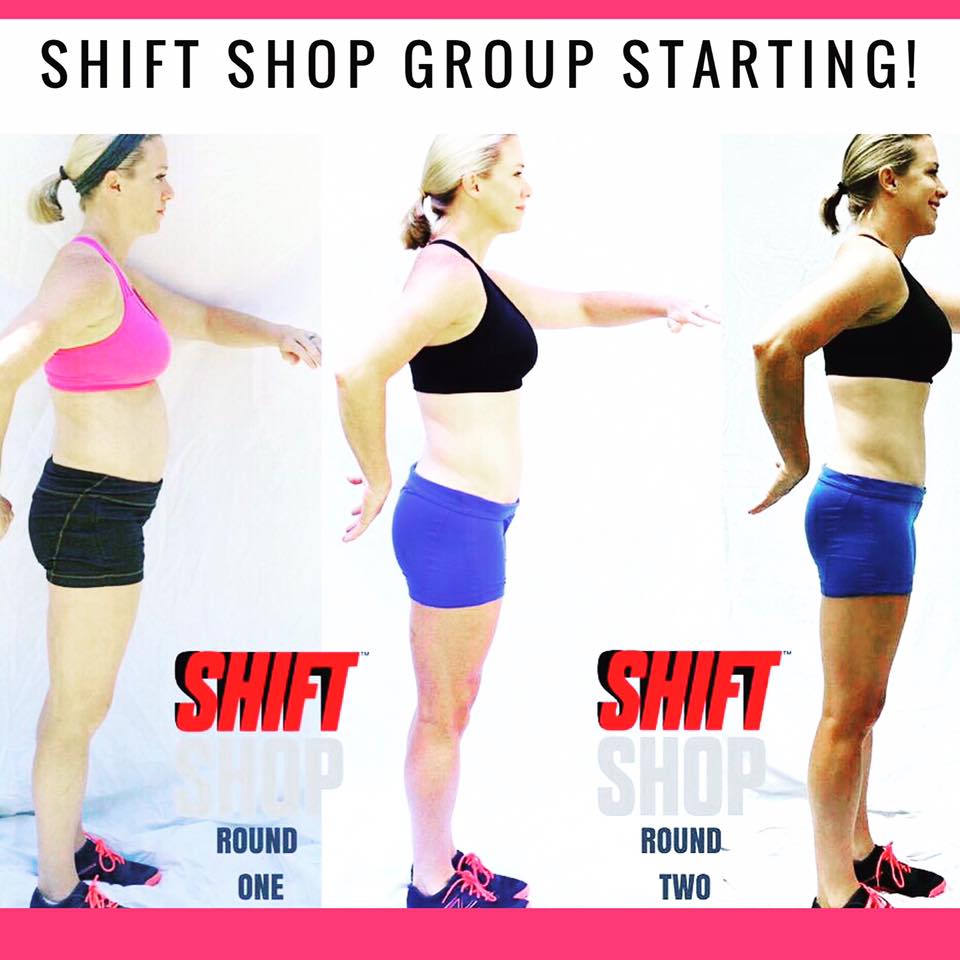 Check out the 3 week results from my Coach friends also in the Test Group!