Do you Love Cardio and Kickboxing?
Do you Love Body Weight Exercises to keep you lean?
Do you Love to feel like a Bada$$ at the end of your workout?
Then Core De Force is for you. There is no Downtime. No jokes. No BS. Just kicking, punching, twisting to whittle your waist and hips, and define your arms through punches and your booty and legs with the kicks and lunges.
My Name is Jamie, and I have been a beachbody Coach for 5 years. I started as a coach after my first son, to lose the baby weight. Since then I have completed 10 full beachbody programs so I can help you find the right program even if this does not look like your cup of tea! I personally LOVE high cardio programs without weights. My midsection can get "fluffy" and I love the feeling of dripping sweat and leaving everything I have in my workout. If you are like me, you will LOVE this program!! The moves are fast, fun, and easy to get the hang of.
Check out the 60 Day Results from my Coach Friends!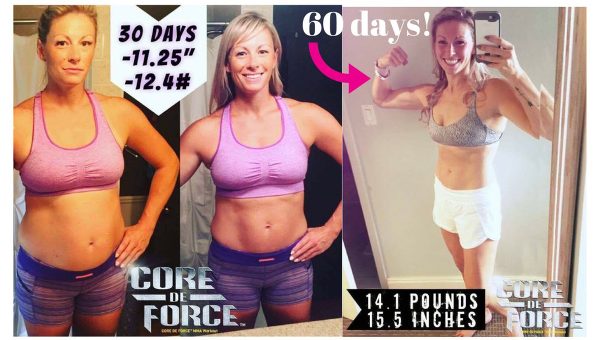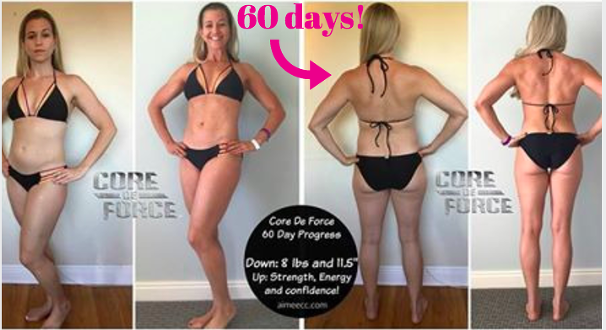 A group of beachbody coaches were invited to test this Cardio and Strength Kickboxing At HOME Workout before it is released to the public! These photos above are my Coach friends that I had the chance to meet at a Leaders Event for Top Beachbody Coaches across the US.  I asked if I could share their 60 day pics and they said OF COURSE!
I myself just finished the first 30 days of the program, waking up at 5:30 am every morning with my husband, and we are ADDICTED!  No Lie.  NO BS.  I have been a coach for almost 5 years, and this could be my favorite program so far. Check out my results below!  Down 6 lbs, and 5 inches, and on my way back to my goal weight!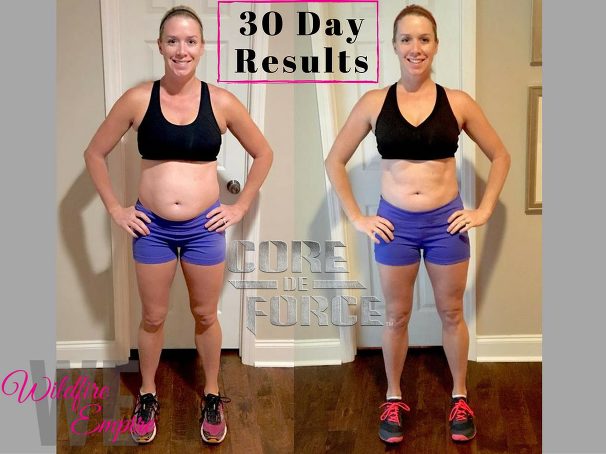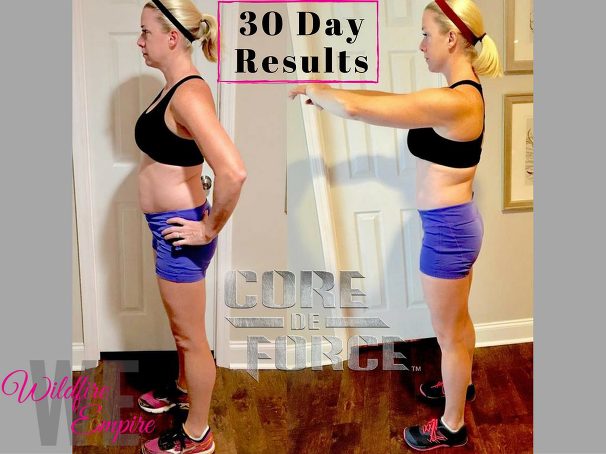 What Does a Typical Week Look Like?
Cardio – Strength – Cardio – Strength – Cardio – Strength – RECOVERY
There is a modifier if you need to keep it low impact (but not LOW Effort!) you are covered.  We will work on a 30 day schedule within the group, but I will encourage my challengers to go 60-90 days, repeating the schedule 3 times through.  The moves are tough, so as you get stronger the workouts will feel tougher as you are able to push harder and go full out with the moves.

Watch this clip of Core De Force below to see a better glimpse into the moves and energy!
CORE DE FORCE: Product Kit & Equipment details (Base & Deluxe)
What does the food plan look like?
Have you heard of a little program called The 21 Day Fix? 
If you haven't I would be shocked!  The success and results this food plan has caused have completely changed my beachbody business.  It is NOT A FAD DIET, but teaches my challengers how many servings of each food group they should actually be eating each day. So many people have NO idea how many servings of greens, carbs, proteins, fruits, healthy fats, cheese, dressing, water, they should be consuming each day for their body weight.  This program teaches you that, plus correct portion size.
Beachbody now combines the 21 day fix meal plan with all of our new workouts for max results!  You can exercise every day, but if your nutrition is not on point, you will not see the change you desire!
For Core De Force, We have combined the 21 day fix food plan, but slightly tweaked adding in extra containers on weeks 2 and 3.
Apply here for more info, to chat personally with me, or to go ALL IN with my Core De FORCE Test Group!
CORE DE FORCE: Product Kit & Equipment Details (Base & Deluxe)
View Program, Challenge Pack & Training details in FAQ 5217.
CORE DE FORCE 30-Day Program
Base Kit
Deluxe Kit
GUARANTEE
30-day Money Back Guarantee
Yes
Yes
8 WORKOUTS (3 DVDs)
WORKOUT RUN TIME
MMA Speed
Yes
Yes
27 min
MMA Shred
Yes
Yes
37 min
MMA Power
Yes
Yes
47 min
MMA Plyo
Yes
Yes
47 min
Power Sculpt
Yes
Yes
37 min
Dynamic Strength
Yes
Yes
47 min
Active Recovery
Yes
Yes
21 min
CORE DE FORCE Relief
Yes
Yes
5 min
TEAM BEACHBODY EXCLUSIVE (1 DVD)
MMA Mashup
Yes
Yes
26 min
3 DELUXE WORKOUTS (1 DVD)
Agility Strength
No
Yes
37 min
Agility Power
No
Yes
27 min
MMA Kick Butt
No
Yes
37 min
PRODUCT TOOLS AND GUIDES
Quick Start Guide
Yes
Yes
Eating Plan*
Yes
Yes
30-Day Calendar
Yes
Yes
Deluxe Calendar
No
BOD Hybrid Calendar
No
EQUIPMENT
7 Portion Control Containers
No
Yes
Agility Ladder
No
Yes
FREE GIFTS
Bonus: Core Kinetics*
Yes
Yes
15 min
Bonus: 5 Min Core on the Floor*
Yes
Yes
5 min
24/7 Online Support*
Yes
Yes
*These items are free to keep with purchase and do not need to be returned with the kit
The products in the kit do not contain natural rubber latex that may cause severe allergic reactions.
| | |
| --- | --- |
| REQUIRED EQUIPMENT | NONE! |
| RECOMMENDED EQUIPMENT | Core Comfort Mat is helpful during core work on the floor, but not required. |
WORKOUT DESCRIPTIONS – BASE KIT
MMA Speed
Upper body and core-focused, this Boxing-influenced workout is short-but packs a serious punch.
MMA Shred
Kick things up a notch with Muay-Thai-inspired elbows and kicks for a head-to-toe shred that'll lean you out fast.
MMA Power
Using explosive and defensive-style movements, this fast-paced cardio conditioning workout will help you carve a tight lean body.
MMA Plyo
What happens when you combine Boxing, Muay Thai and plyometrics into one workout? You get a total-body shred designed to knockout hundreds of calories and spike your fat burn into overdrive.
Power Sculpt
A total-body burner that uses explosive power and interval training to help sculpt lean muscle and build next-level endurance.
Dynamic Strength
Low on impact, but high on intensity, this no-equipment, bodyweight throwdown helps carve impressive definition.
Active Recovery
Recharge for the week ahead with this rest day workout that focuses on form and technique to fight muscle stiffness and soreness.
CORE DE FORCE Relief
The quickest stretch ever. Do this 5-minute session before bed to help relieve tight and tired muscles – and keep you at the top of your game.
Core Kinetics
Strengthen your powerhouse with unique MMA-inspired moves that help carve flat abs and tight obliques.
5 Min Core On the Floor
The ultimate core finisher-5 challenging plank movements to help burn the belly and define, flatten, and tone the tummy.
WORKOUT DESCRIPTIONS – DELUXE KIT
Agility Strength
Combine fast footwork drills with bodyweight to improve coordination and blast major calories.
Agility Power
Grab your agility ladder and rip through multi-functional training that ignites every muscle and shreds fat for serious definition.
MMA Kick Butt
Designed to carve lean legs and sculpted glutes with a nonstop mix of powerful kicks and calorie-scorching conditioning spikes.
WORKOUT DESCRIPTIONS – NETWORK EXCLUSIVE
MMA Mashup
All the best CORE DE FORCE moves in one killer workout! From boxing and Muay Thai combos to resistance and plyo burners, this challenging workout will leave you drenched-and wanting more.
Program Details
Program Trainer
Joel Freeman and Jericho McMatthews
What's Included
View FAQ 2071 for Kit Details and Workout Descriptions
Program Length
30 Days
Workout Length
30-45 Minutes
DVD/VHS/Blue-Ray
DVD Only
Spanish Program
DVD: Subtitles
Beachbody On Demand: Voice Over
Closed Captioned
Yes
Certification Available
Coming in 2017
What is Core De Force?
Core De Force is an explosive mixed martial arts-inspired total body workout designed by Beachbody Super Trainers Joel Freeman and Jericho McMatthews to blast fat and carve your waist in just 30 days – No equipment needed.